Free Website Templates HTML and Services for Low-Cost Web Development
Various free website templates HTML and services can help if you're new to web development. Also, you may be wondering how to get into the field of web design. Moreover, without having some proper knowledge it may seem difficult to grasp even the basic concepts of creating a website. While most business owners and entrepreneurs decide to take a simple path and pay for web development services, there's always a possibility to get started with building a website right away. Furthermore, you can even save a lot of funds on it or even do it for free.
The first thing we recommend to do is to learn the basics. In most cases, it can be done via various guides and free courses that can be found in all their abundance on the Web. However, there are more free and affordable ways to web design & development than just learning beginner techniques. In today's article, we are going to talk about how you can get started with creating your very own website without overpaying for it or even doing it for free.
If you missed our recent posts, we highly recommend you to check out the benefits of using membership HTML5 templates. We also recommend reading about the impact of community and social media platforms and how they can serve your online project.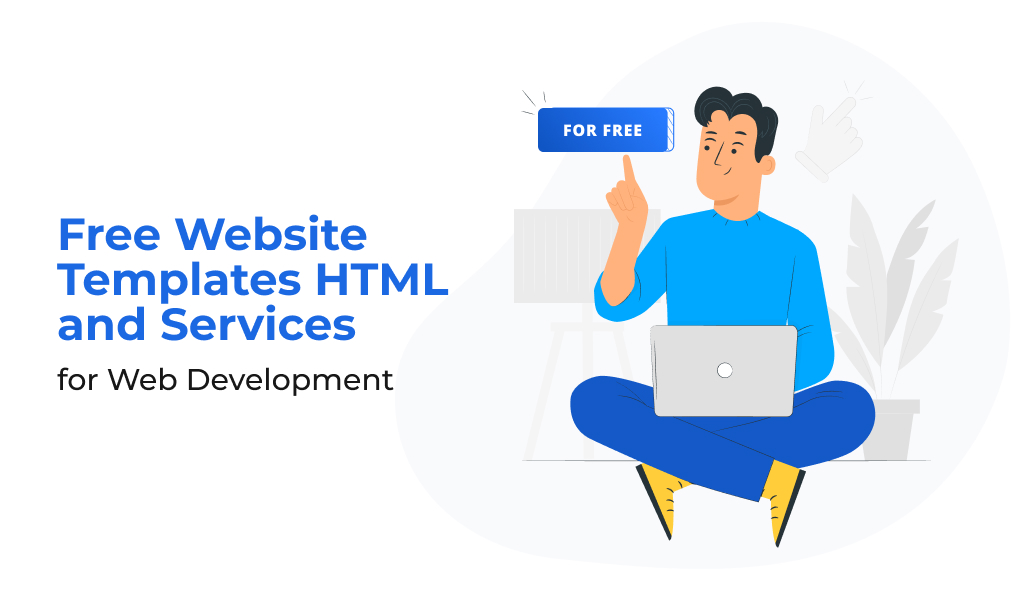 HTML5 Website Builders: Easy-to-Use Web Development Tools
Many beginner web developers who decide to start from scratch aim at coding courses or schools. And this is the right way to start if you plan to pursue a career in IT or web development. But what if all you need right now is a website that will make your potential customers notice you? In that case, free website templates HTML building tools may come in handy. They allow you to interact directly with various parts of a website. Moreover, with the help of such a tool, you'll be able to find out how a website works and what parts of it attract attention in the first place.
With these and other benefits to website builders, it's no wonder that these tools are highly popular nowadays. Besides, they can simplify your web development process. Even if you are looking for something more affordable than a premium HTML website, such tools will perfectly meet your goals and needs. Website building apps and solutions are easy-to-learn and user-friendly.
Unfortunately, not all tools for visual website design are affordable or suitable for every purpose. However, if you want to create an easy-to-edit website, using a reasonably priced website editor is a smart choice. Such a tool can be used alongside other free templates HTML5 services. One of the solutions that will meet your needs regardless of your future site type is Novi Builder. This visual editor is not just affordable, it is also versatile. Moreover, it grants you full control over your website alongside features that can't be overlooked.
Using Free Website Templates HTML Services
In our previous posts, we have already touched on the features of Novi Builder and how this tool benefits website development. What makes Novi Builder truly powerful is the variety of tailor-made HTML5 templates. They are designed to work smoothly with our visual website editor. Every template created by our team contains pre-designed presets and layers. Created to simplify the customization process, these elements also allow simple content editing. While we offer premium HTML5 templates and landing pages, we also have high-quality free solutions.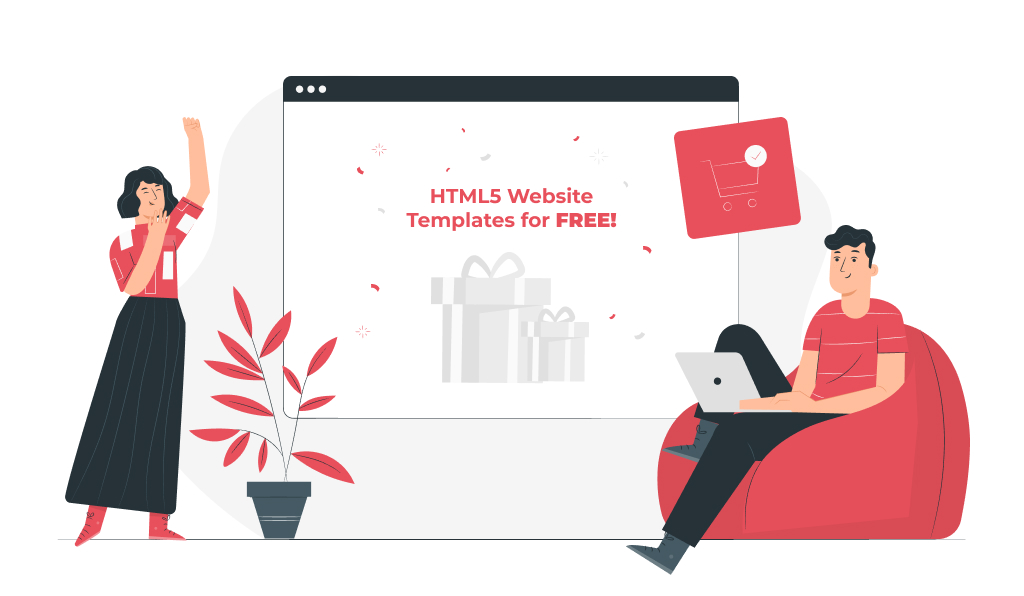 The free website templates HTML are a great basis if you want to establish a website but don't know where to start. Just like the premium ones, free templates are available as both multipage and landing page options. They were tested for compatibility with Novi Builder and are a perfect addition to it. Besides, you can use these templates outside of our visual editor as ready-made solutions. All our HTML5 templates have easy-to-edit code and are compatible with any modern web development software, such as:
Notepad++;
Atom;
SublimeText;
Visual Studio Code etc.
If you want to know more, feel free to read an article about our free HTML5 website templates. It describes our most downloaded HTML solutions, from which you will surely benefit. We also invite you to check out the whole catalog of free and paid templates by our team available on our website. The list of free templates html5 services is regularly updated with new solutions uploaded by our developers and designers.
Saving on Web Development with Free Website Templates HTML & Discounts
A business may often need more than just a free website templates HTML. That's where our membership & premium HTML templates can help. But what should you do if you can't afford the annual membership fee or if you need just one template? Then we recommend paying attention to discounts & various specials. We regularly publish such special offers on our website and the Facebook page of Novi Builder.
These specials allow our clients to get the best premium templates by the Novi team at a highly affordable price. Whether you want something modern and simple or more complex and corporate-style, our HTML templates catalog has it. Besides a wide variety of templates and landing pages, we also offer various services for website owners. They vary from content writing to GDPR compliance service and are often available at a discounted price. These services will come in handy if you already have a working website and want to make it more noticeable online. Now let's look in detail at each of these options and see how they can help your site.
Affordable & Reasonable Rates of Novi Builder
As we have already mentioned, the templates we offer are ready-made solutions. We recommend using them with Novi Builder. However, you can just unpack any Novi template and use it right away. This is true not just for free templates but also for the premium ones. In its turn, Novi Builder grants you control over each element and code line. However, you may need more than a basic selection of HTML5 templates. And our membership subscriptions have just what you need to make your website up and running quickly.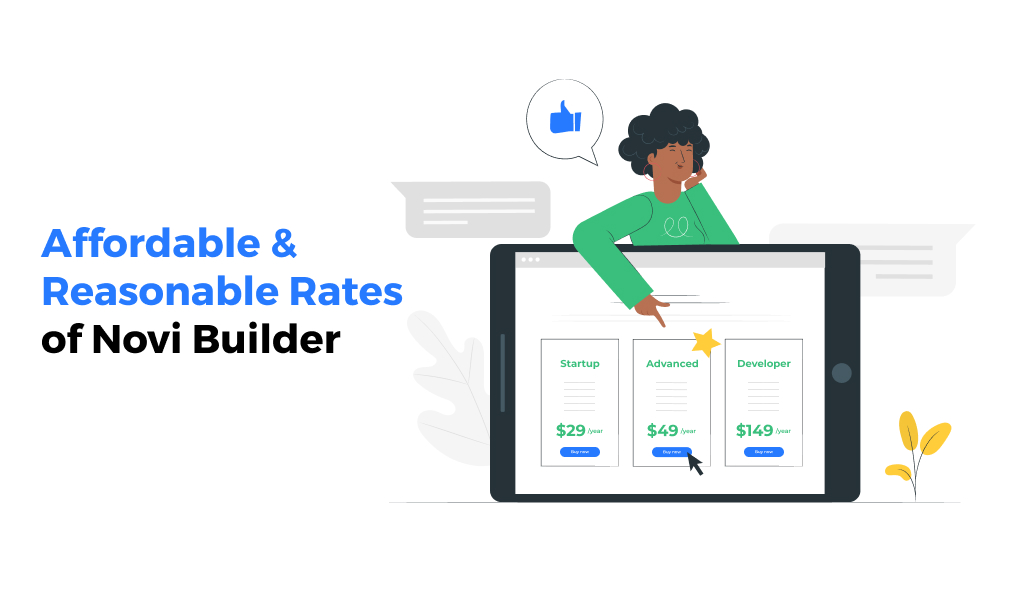 Different plans provided by Novi membership include various useful options for your website. For example, for less than $50/year, you can get not only Novi Builder. You also get access to:
A variety of 35+ HTML5 responsive website template;
Free visual editor updates;
Developer support;
30-day money-back guarantee.
Furthermore, you can get the developer license and lifetime benefits with one of our plans. To find out more about the various options we provide, feel free to check out the Pricing page on our website.
The Benefits of Membership & Subscription Templates
The membership templates provided as a part of our Advanced plan contain a vast range of features. Being responsive and well-designed, they also meet modern standards of web development. Moreover, many of the offered templates are eCommerce-ready. It means that they allow you to integrate an online store into your website easily. Most importantly, our templates are great for promoting your products and services. All these features come with the template being fully editable and easy to work with. Also, all our solutions are built with the latest version of Bootstrap. This framework allows you to effectively customize any template by Novi. When combined with our visual editor, the customization is even smoother.
With our visual editor and free templates HTML5 services, you can fully improve the look and functionality of your website. This is also true if you need to enhance your website without hiring a designer. Novi Builder can easily become your #1 tool for customizing and improving your website. Due to a variety of included plugins, your website can be transformed in no time. And with our templates, you can also get a selection of ready-made UI elements. They allow you to improve the customization process even further.
Discounted & Free Templates HTML5 Services by Novi
As we have mentioned above, our solutions aren't limited by the templates we offer. For those who have already established their online presence, we also provide various services. They will fit if you want to add content or rank higher on Google. If you're the developer creating something special, we have just what you need. The services and solutions provided by our experts include the following:
Creating a website is just a first step to your online success. For that reason, we have introduced the abovelisted services. Many of them are designed to improve your site. This is especially true if the site is created with Novi Builder. However, you can freely use our services to add more content and improve your website. Moreover, you will always know what to expect. This is because we deliver the promised results on time. So if you need to improve your website's look, our experts will gladly help.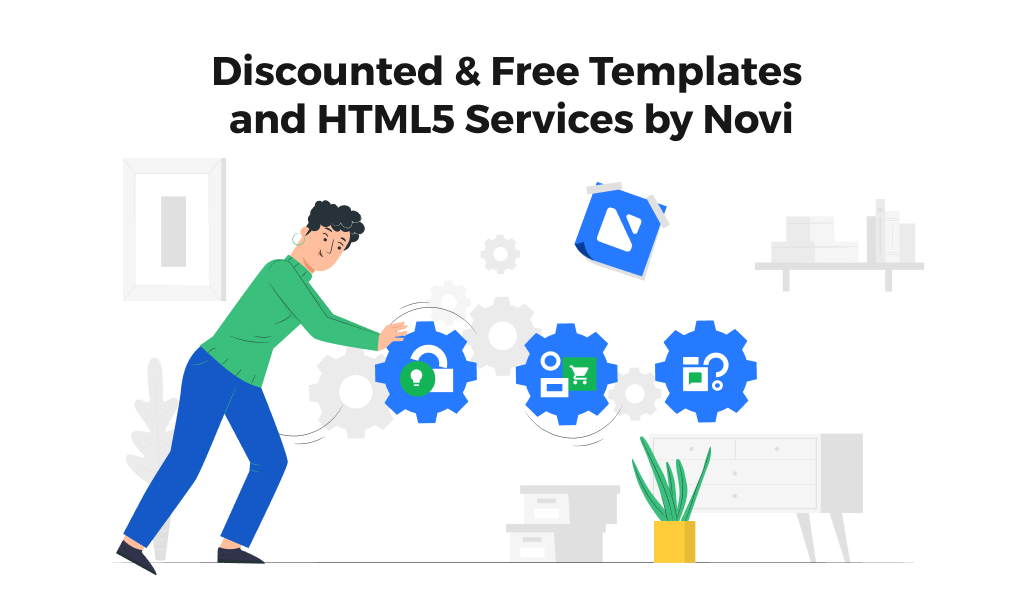 The prices of both templates and services may seem affordable to some clients of Novi. However, beginners in web development usually look for something less pricey. We completely understand the reasons for it. That's why we regularly provide discounts and promotional codes on our templates and services. From building a modern website to redesigning its layout, we keep our rates balanced. This means making all of our solutions reasonably priced. Don't forget to stay connected for more information about the upcoming specials.
High-Quality Web Hosting, Tips & Support from Industry Experts
Alongside the services, many beginners often look for tips from professional developers. Most of the articles and tips found online are useful for simple HTML & CSS development. However, to use the potential of Novi, we recommend familiarizing yourself with our guides. These informative articles are written by our developers and support agents. From explaining basics to describing recent features, we cover all the topics. You can also find more information about free website templates HTML in our blog.
Speaking of tips and support, we also need to mention the Facebook community of Novi Builder. It is not only the source of feedback for current clients of Novi. This group also allows you to ask questions and get help. The Novi experts, customers, and the support team will be glad to assist. Whatever your question is, our community will easily help you answer it. You'll have no trouble with getting assistance from our team as well.
The list of the services we provide wouldn't be full without the hosting specials. Even if you work on your website locally, you'll need to register a hosting account. Our team has thought about it in advance. We teamed up with two well-established hosting providers – BlueHost & HostPapa. The special hosting rates are available exclusively to our clients. These offers will help you get your website online quickly. Moreover, you won't have to spend a fortune on hosting services. Feel free to find out more about how you can save money with our HTML website hosting service.

Free Templates HTML5 Services: Conclusion
We hope that our today's post helped you select the proper & affordable solution for your future website. Even beginners in web development must always have an opportunity to build their dream website. Even if you are on a budget or just getting started, our services & templates will be a great choice for you. And if you have any issues or questions, you can always contact our support directly.
It may be that you are already a seasoned developer. And if you need more opportunities for your projects, we are ready to help. All our solutions and products are scalable. They will help you get what you need for your clients' websites. Don't hesitate to share your knowledge and ask any questions on our community page. Our community managers and support agents will be glad to help you. We appreciate any feedback. Our team is always happy to help you create your next project with Novi Builder.