How to Create HTML5 Website Templates for Free?
Having a smart and fast website today counts as an ultimate tool for running a business online. It's highly useful for not only commercial but also individual projects. In the earlier days of the Web, free HTML templates were something rare and unique. Today, however, the situation has drastically changed. It's easy to find lots of HTML5 website templates for free. Among them, there are even true gems, regarding both design and functionality.
When we talk about HTML templates, first of all, we think about responsiveness. This is a result of mobile platforms' popularity. Moreover, a well-designed template is a time-saver for any business. Even if you run a small startup, you may first ask yourself how to create website templates for free. Any of such templates can be a perfect start for your forthcoming website. Also, it will be a great fit if you have just begun to discover the world of free HTML website templates.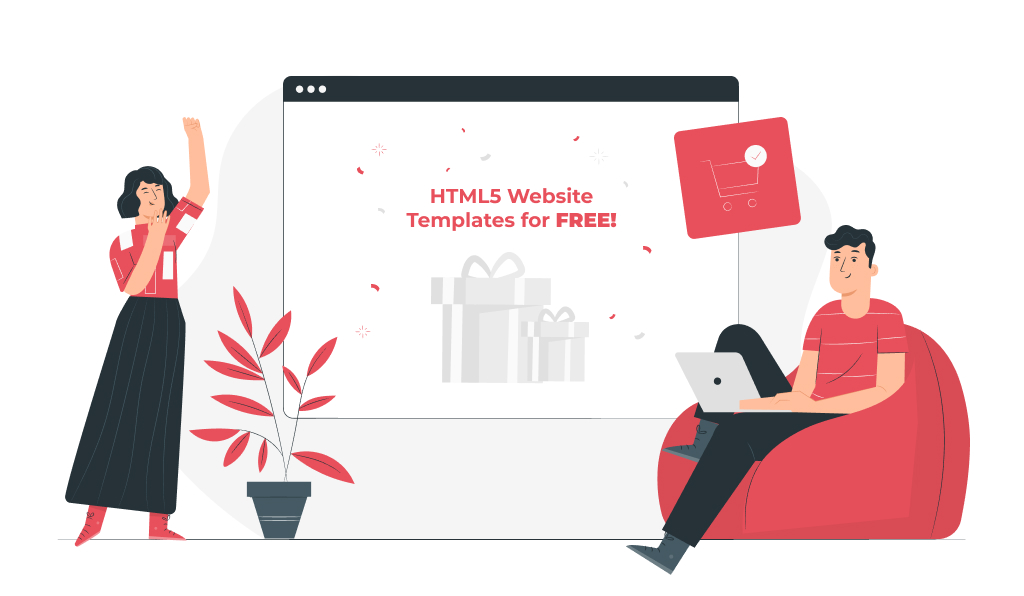 In today's post, we have collected 5 best & free templates developed by the Novi team. Also, we'll take a look at various tips and tricks that will help you build your first website template for free. All of these recommendations have been personally checked by our team. And the templates featured in this post contain a wide set of features. From the parallax to the mega menu, there are lots of benefits that our free HTML templates have.
If you haven't decided what platform to choose, check out our post about the pros and cons of HTML and WordPress.
Best Tools to Build a Free HTML5 Website Template
According to popular opinion, building a website usually requires not only huge time investments but also a lot of money. And while the first might be true, we would argue about the second statement. Without any doubt, the code knowledge will be of great help for any website owner. Moreover, it is a lot easier to build a website of your dream by yourself. Especially if you have a clear vision of how it should look and feel. That's also true if you intend not to use any HTML5 website templates for free. But what if you don't have little to no experience or knowledge of developing websites? In that case, website building tools may come in handy.
There are various web development tools available for free. For example, you can use various frameworks and scripts that enhance front-end development. They are based on technologies that are widely used by web developers worldwide. Almost any modern or popular site you see on the Web is based on these frameworks and scripts. There are a lot of them, but we'll list the most popular ones that have shaped the web industry of recent years:
These technologies are great as a starting ground for any kind of website. However, all of them require some knowledge of the web development process. That's why these technologies are used mostly by developers with certain expertise. But if you want to avoid any complexities when building your site, then website builders are an appropriate choice. They can be either installed on your PC or uploaded to the hosting server for easier use.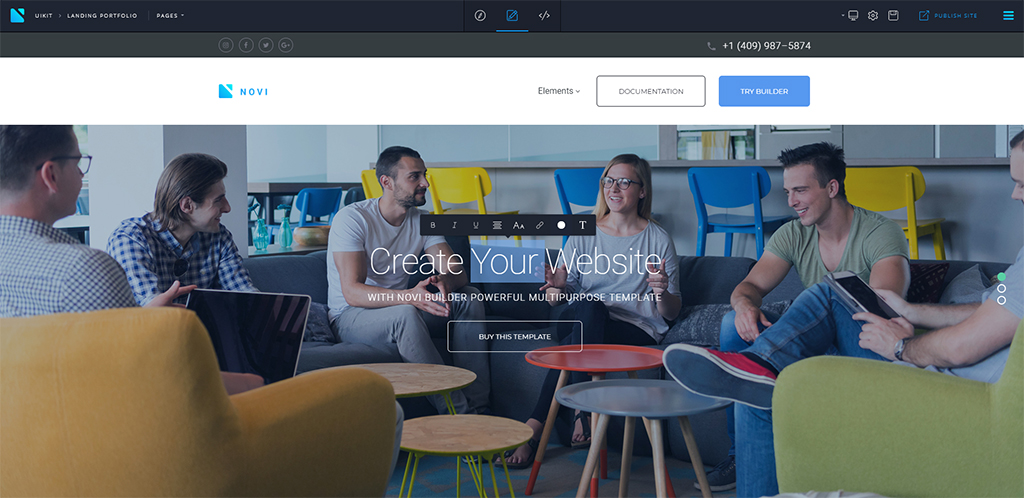 Using Website Builders to Create Your First Free HTML Template
There are numerous benefits of using website builders. These tools are usually available as multipurpose solutions that can help you create an HTML website from scratch. Also, such tools are perfect for building HTML5 website templates for free. From integrated fonts to simple image management, there are lots of features modern website builders can offer. Let's take a closer look at various features that modern website builders offer. We'll take Novi Builder as an example. It is a feature-rich and affordable website building tool that offers every customization tool you can think of.
Novi is a real-time editor that allows you to visually edit any kind of HTML website. Even though this builder is based on a subscription model, its cost is quite affordable. Moreover, with the lifetime subscription, you won't have to worry about renewing your Novi membership annually. Even if you have just started your journey into the world of web development, it will be suitable for you. This website builder allows you to create HTML pages of any complexity.
Website Builder Features & Hosting to Help You Create HTML5 Templates
Whether you intend to build a landing page or a multipage website, this multifunctional solution can help you with it. Like any modern website editing tool, Novi comes with a set of built-in plugins and features. They were developed to make various aspects of website development and management easier. Here are just some of the plugins you may want to use:
Intuitive context menu;
Responsive resolution preview etc.
However, most website builders nowadays are based on technologies that require a builder to be run on a hosting server. Novi Builder is of no exception. To help our customers get started quickly, we teamed up with well-known hosting service providers, Bluehost, and inMotion. Their solutions are reasonably priced. With proper hosting, you can start creating HTML5 website templates for free right away. Don't forget to browse the Hosting page for more details on our latest hosting offers.
What are the Best Responsive Designs of Free HTML5 Website Templates?
You don't have to own Novi Builder to take advantage of templates. If you need an impressive design and awesome functionality, we encourage you to download our free templates. They are available on our website. It isn't required to provide any data except your name & e-mail to download our templates. Don't forget to check out the full free & premium templates catalog on our website.
Philip – Free Portfolio HTML Template for Photographer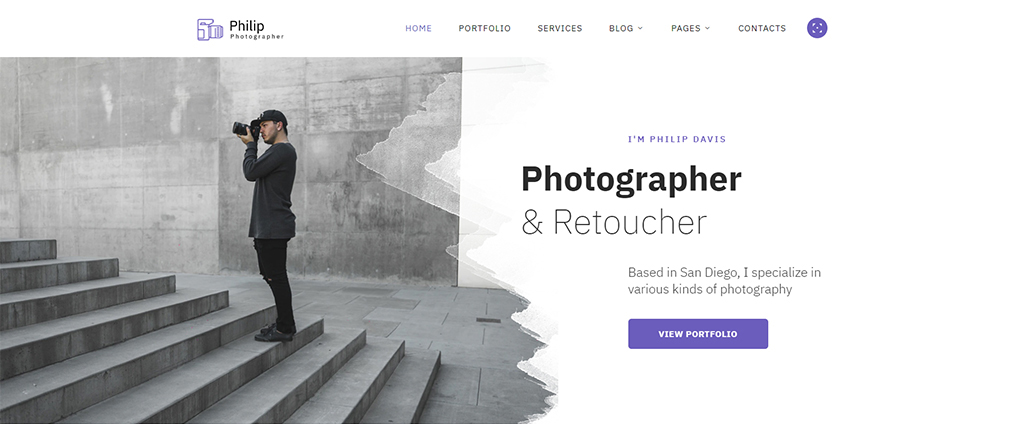 The templates featuring portfolios for photographers are amongst the most popular ones on the Web. This HTML solution features a highly creative design and reflects the topic of photography. It provides any photographer with lots of benefits to showcase their works online. In case you don't want to create a simple portfolio, Philip free HTML portfolio website template will suit you. Due to a variety of pre-designed pages, you get lots of content as a part of this and other free website templates.
Besides being free, this HTML template offers a wide set of features. They are designed to grant your visitors more interaction. Among the notable features, we should mention simple & effective navigation, integrated Google Maps, informative footer, etc. The template also includes separate pages for blog, services, and portfolio. These features are built around better content management for your website.
Building – Free Construction Business HTML Landing Page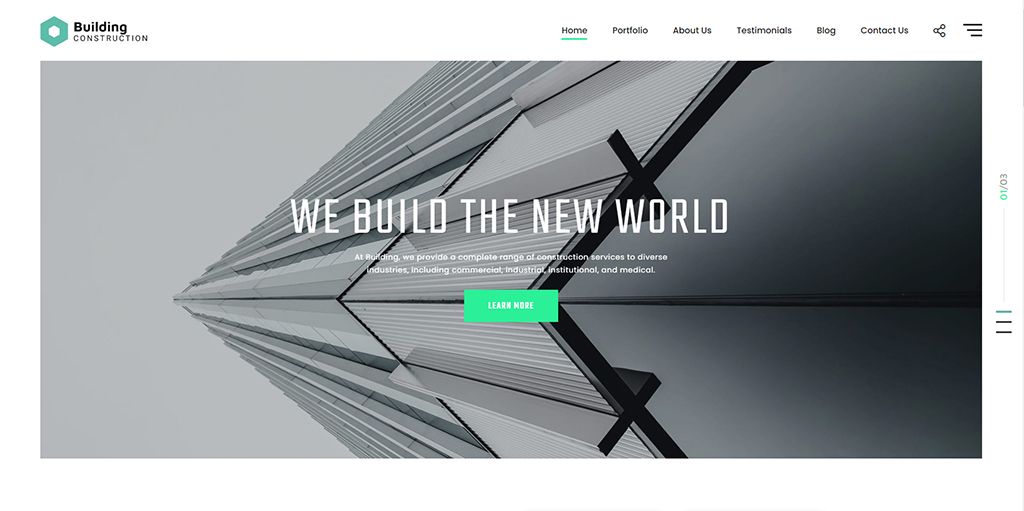 Modern construction business heavily relies on proper online representation. No wonder these HTML solutions are one of the most popular ones. However, it may be that you don't want to spend money on purchasing unreliable templates. Luckily, our team is glad to back you up with a free landing page. It will help you build a trustworthy construction business website. Due to the outstanding & clean design, this template will allow you to quickly establish a noticeable website.
Building free HTML landing page offers a range of features and benefits for your site. First of all, it comes with ready-made sections. They are dedicated to showcasing your company's projects and services. You may post regular construction industry news as well. Besides, you can give your customers more information about the history of your business. And with impressive animations and transitions, you'll surely make your website even more attractive. Furthermore, all these and other features are available for free.
Busistat – Free HTML Template for Business Websites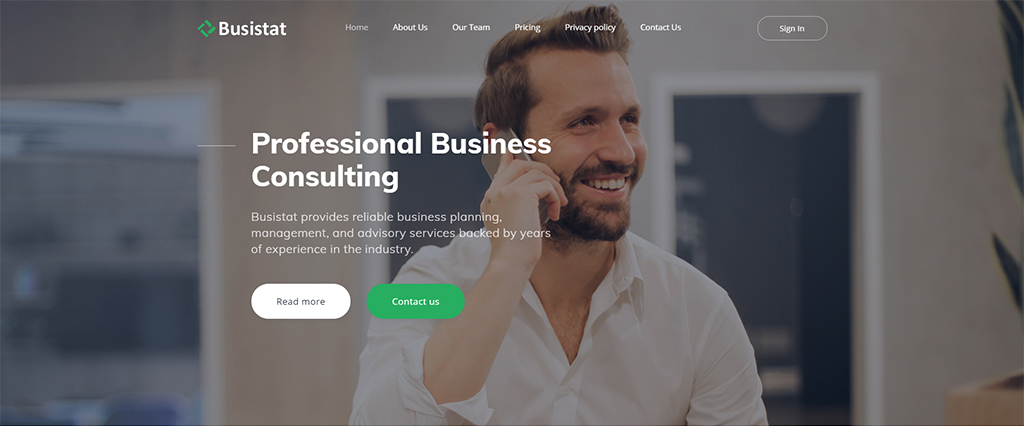 Modern templates for business consulting reflect the rising demand for properly designed corporate websites. And while big enterprises get such websites by hiring web development experts, this isn't an option for smaller businesses. So if you are looking for a free alternative to paid business consulting templates, Busistat free HTML business template might be a perfect pick. Besides, it is a fitting HTML website template for any kind of business.
This HTML template provides everything a basic business consulting website requires. First of all, it has a detailed footer and minimalistic header. They allow for better navigation. With various ready-made pages, you can tell more about your team of business consultants. Also, describing your pricing policy and services is just as easy. Google Fonts & Google Maps allow you to drastically improve the UX of your new website.
Worldblog – Free HTML Blog Website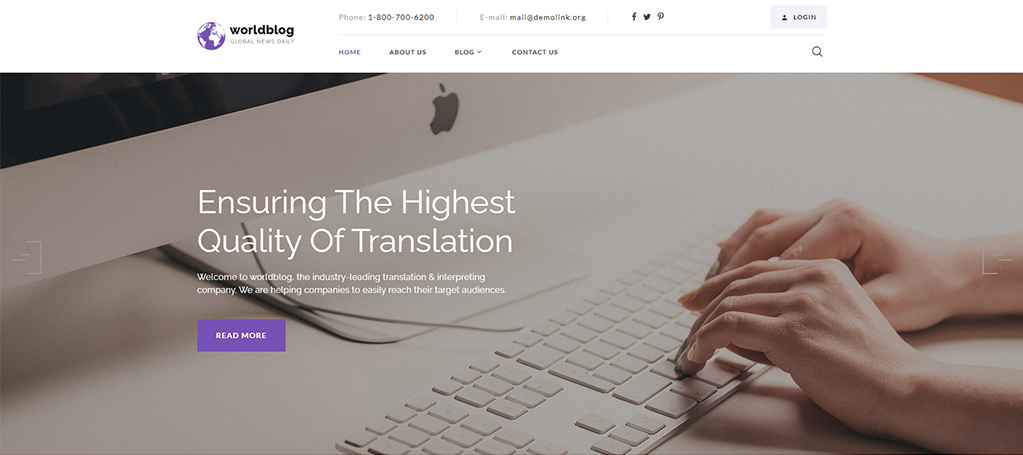 Establishing a successful online blog is of vital importance for beginner bloggers & writers. Without any doubt, it isn't easy to gain success online without a properly designed website. Also, a website is a reflection of trust and professionalism. Whether you are a lifestyle blogger, translator, or a professional writer, our new & free template will help you get started online. In case you are looking for a flexible template, this is a good choice.
The Worldblog free HTML blog website template offers high responsiveness and Bootstrap 4 layout as any other of our HTML5 website templates available for free. Besides, this template can be used for both showcasing your services and posting regular news. It has a well-developed homepage layout and pre-designed blog pages. Your readers might want an easier search for your posts. For that reason, we've also added a detailed sidebar. All this is combined within a single solution offered among HTML5 templates for your future website.
Softor – Free HTML Simple Website Template for Software Development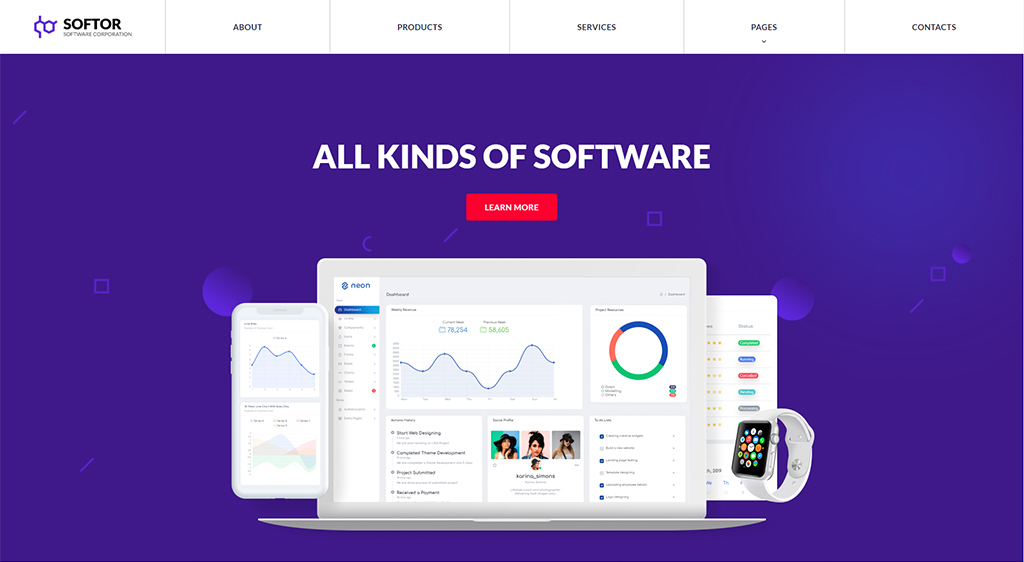 As the software industry grows, there is a noticeable demand for related website templates. The main goal of such solutions is to promote mobile apps & PC software. These days, most companies spend funds on app development. Thus, not all businesses have enough resources to build a suitable website. Softor free HTML simple website template was designed to simplify this process.
Softor was built to suit not only software developers. Using its layout, you can build any type of website that your company needs. With a stunning gallery, you can easily showcase your apps. The modern blog allows you to post the latest news. The Parallax effect will instantly attract your clients' attention. And various catchy animations will spice up your new website.
Where Can You Get HTML5 Website Templates for Free?
Many people who discover the potential of HTML templates for the first time may wonder where to get them for free. Of course, the most obvious way is to search for them online. However, very often you can end up downloading an average HTML template. We recommend you to use only the template catalogs with the high online reputation. The latter can be determined quite simply. A trustworthy template provider usually has:
Well-developed & reachable site;
Active social network accounts;
Regularly updated blog;
Real testimonials.
Today, many browsers have built-in extensions or algorithms of website trust levels. If you are visiting an unreliable website, you'll be warned by the browser. Also, you can pay attention to the website itself and how it protects your data. For example, the Novi Builder website uses SSL to establish a secure connection. It is done to protect your privacy & personal data as well as secure your payment details. Moreover, the HTML5 website templates that we offer have been previously tested multiple times. Such an approach allows us to ensure that customization of any template won't worsen your website functionality.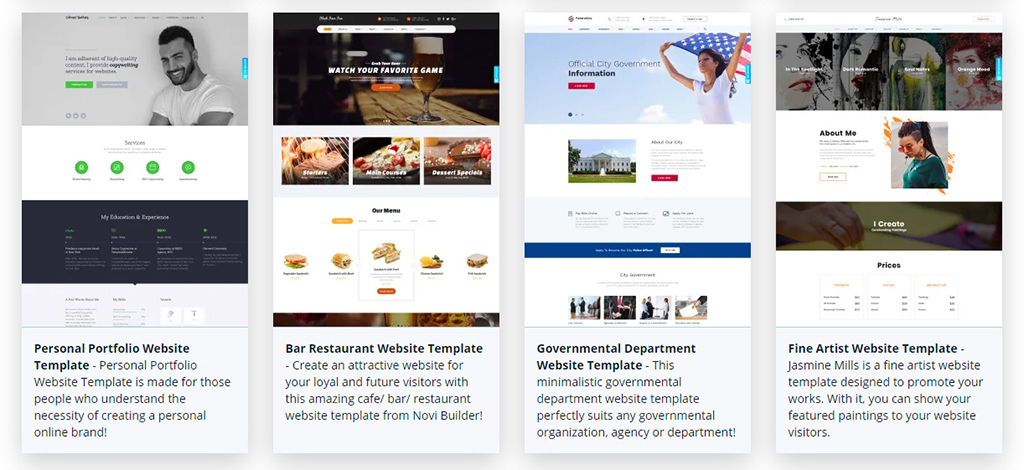 Besides offering these templates, our team has added a range of 35+ multipage templates & landing pages. They are available with the Advanced subscription for just $49/year. Furthermore, with this subscription plan, you get Novi visual editor with its plugins & updates. If you have any questions about our rates, Novi Builder, or payment procedure, check out the FAQ section on the Pricing page. And if you want to know more about our builder, you can consult its documentation.
If you are new to Novi Builder and subscription models, you may be confused about different pricing options. Luckily, we have prepared a detailed guide for you that will help you select a Novi membership plan. It explains all three pricing options in detail. Also, it covers different licenses of our website builder including the White Label license. Thanks to the article we have prepared, you will learn how to choose a proper subscription and change the pricing plan if you need any upgrades.
Free HTML5 Website Templates: Conclusion
As you see, getting a free template is a great way to kickstart your website. With a ready-made design & functionality, our free templates offer you a great basis for further website development. Moreover, these templates include a set of pages and features for any website. Downloading our free HTML template is a great way to test our templates. You can easily check their functionality by uploading them to your favorite hosting server.
If there are any questions left concerning our templates or visual website editor, feel free to leave your comments. Also, don't forget to join our community on Facebook. There you can contact our team directly and ask any questions you have.

We hope that our post has shed some light on how to create HTML5 website templates for free. Building a trustworthy website may not always start with a free template. Still, it's a great way to make your first steps in this area. If you are interested in other products & solutions developed by the Novi Builder team, browse our website or contact us directly for more information. We are always happy to assist you.