The Role of Choosing a Proper Novi Membership Plan
Novi membership plan is a fundamental concept if you are planning to use our visual editing tool to the fullest. If you are reading this article, you are obviously not a member yet. You may also be planning to update your subscription plan, right? Novi Builder is becoming a worldwide known tool for HTML editing. That is why, we need to pour light on each Novi membership plan, its licensing, prices, and membership purposes.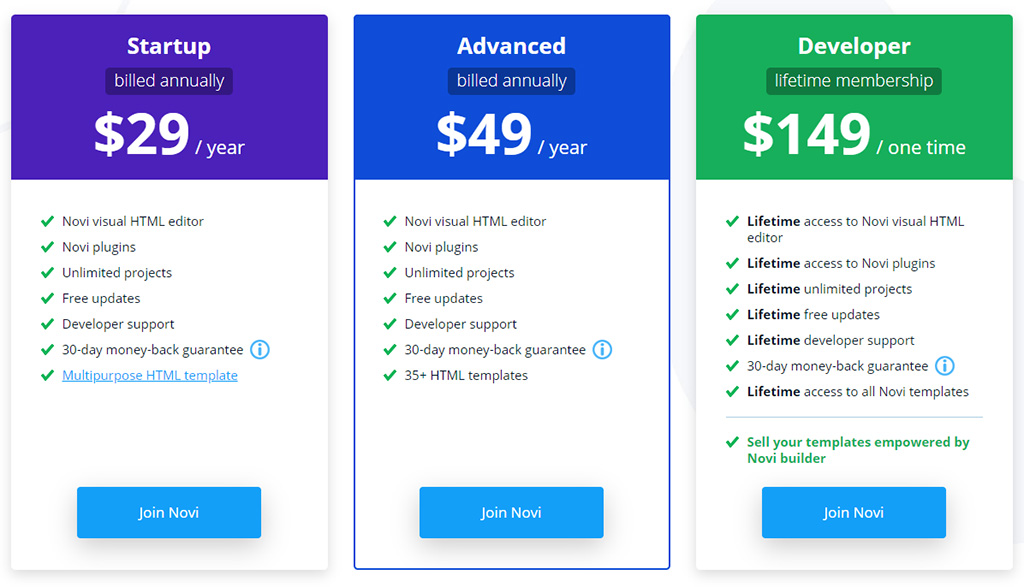 The main features of plans are listed at https://novibuilder.com/pricing/. And in this article, we are going to answer all common questions from our users and visitors.
Do you need an HTML editor? Surprisingly, you can live without it. But with the visual builder, the managing of a big HTML site would be much simpler. Create and update your project visually, keep the chosen style through the project, and create your own reusable elements. Novi Builder possibilities aren't limitless, but it is a wide field for the creative person.
What you will get? Unification of styles, 100% responsive sections. All text, images, videos can be changed in the editor. And, finally, zero hardcoded parts in your project. In other words, that means fewer midnight calls from your customers after the site is done. It is priceless, don't you agree?
Licensing: Regular and White Label Licenses
Novi Builder and HTML templates are released under General License. In short, you can use it on any number of projects belonging to either you or your clients without any limitations.
In addition, under the Developer plan, our users can sell their own templates empowered by Novi Builder at marketplaces, like Codecanyon, for instance.
Moreover, it is possible to purchase the special White Label license (applied to one Novi Builder copy) that allows performing certain changes to the Novi builder's interface and change branding. Check our Detailed Guide on White Label Builder License.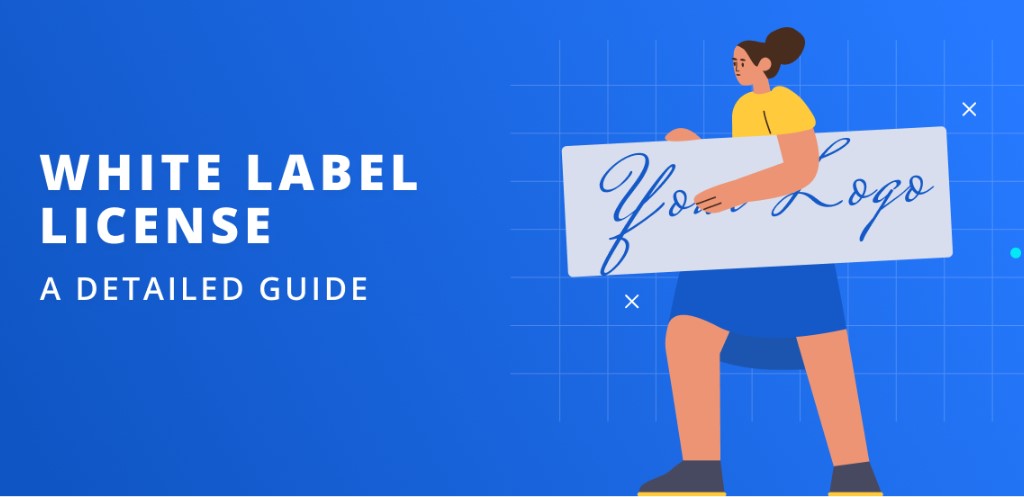 Novi Membership: Developer Plan
Following the logic, we could start listing subscriptions from the cheapest Novi membership plans and ending up with more expensive ones. On the other hand, Developer lifetime membership became the most popular at the moment. It is almost 60% of all plans that were sold for now. We highly value the trust you have put and will work hard to maintain it.
That is to say, not everyone likes the idea of having a subscription for something and avoid automatic renewal and unexpected payments. With the Developer Lifetime Plan, you will get all benefits of the subscription plans and lifetime support.
We are going to keep free support for all Novi Builder members and free lifetime support for users with Developer Plan.
Novi Builder is a fast-developing and long live project and you will have benefits of having a Lifetime plan for sure. Download everything that you can find on the site, any time. All template images, fonts graphics, and icons and get top-level support for your projects or your customer's sites.
Additionally, this Novi membership plan allows selling your templates empowered by Novi Builder.
Startup Novi Membership Plan
Such a license costs only $29 a year and includes Novi Builder itself with the default template and 1 additional template (Startup Company). You can see the default template at http://try.novibuilder.com/. Also, we provide free support for any issues related to Novi Builder during this period. Subscription will renew automatically after 1 year.
Default Template
The default template includes 4 landing pages and 143 presets, enough for site creation. There are 4 premade footer variants and 7 headers that can be altered according to your wishes.
Our customers created a lot of beautiful sites such as a Brewery, Flower Shop, Driving school with the default template. The design was changed completely.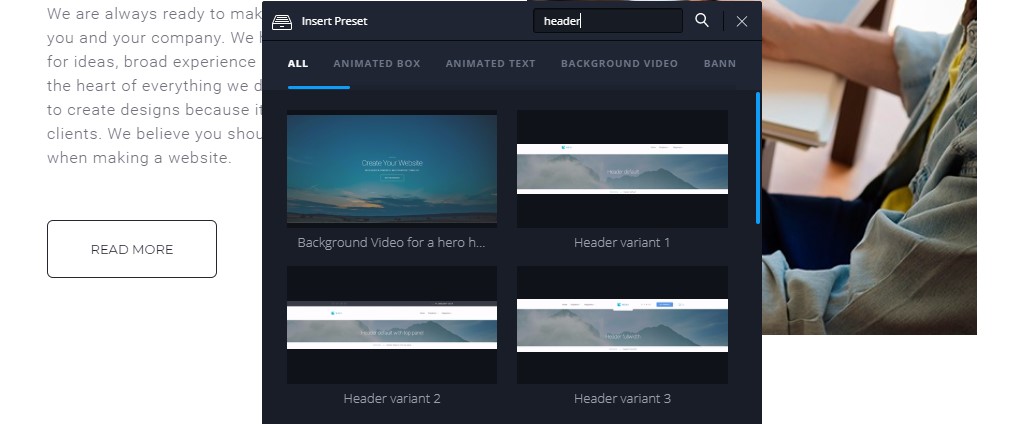 Custom design
If there any custom design is needed, our developers will convert any template/design. You will get the same-looking Novi builder project with presets and responsive design for an additional fee. Join our free support chat to check the price for your specific design.
Services
The Startup Novi membership plan is a great choice if you are creating the first website. Also, developers who have enough skills for creating a new design. A lot of startup members are using our installation or Extended Website Support Services to get the best support and guidance. GDPR Compliance service is popular among EU citizens.
Our long term users are ordering Search Engine Optimization Service and Custom Logo Design for their customers. We highly appreciate your choice and perform the top-quality service.
With a Startup Novi membership plan, you can choose whether the builder is suitable for your needs, play with options, learn the tool.
Please note, that HTML templates from subscription are not available for purchasing separately. However, you can purchase our premium templates additionally or update a membership plan to get all benefits of having a Novi builder subscription.
A lot of our users update their membership to Developer or Advanced to get more design variants. Scroll down to learn how to update.
Advanced Subscription Plan
Advanced Novi membership plan (billed annually, $49 / year) gives an ability to access all HTML templates with pre-made parts (presets). It is the best choice for those advanced users or developers. Moreover, it is suitable for those who want to have a variety of template designs or have a limited budget. Try all and see which template fits best for the particular project needs.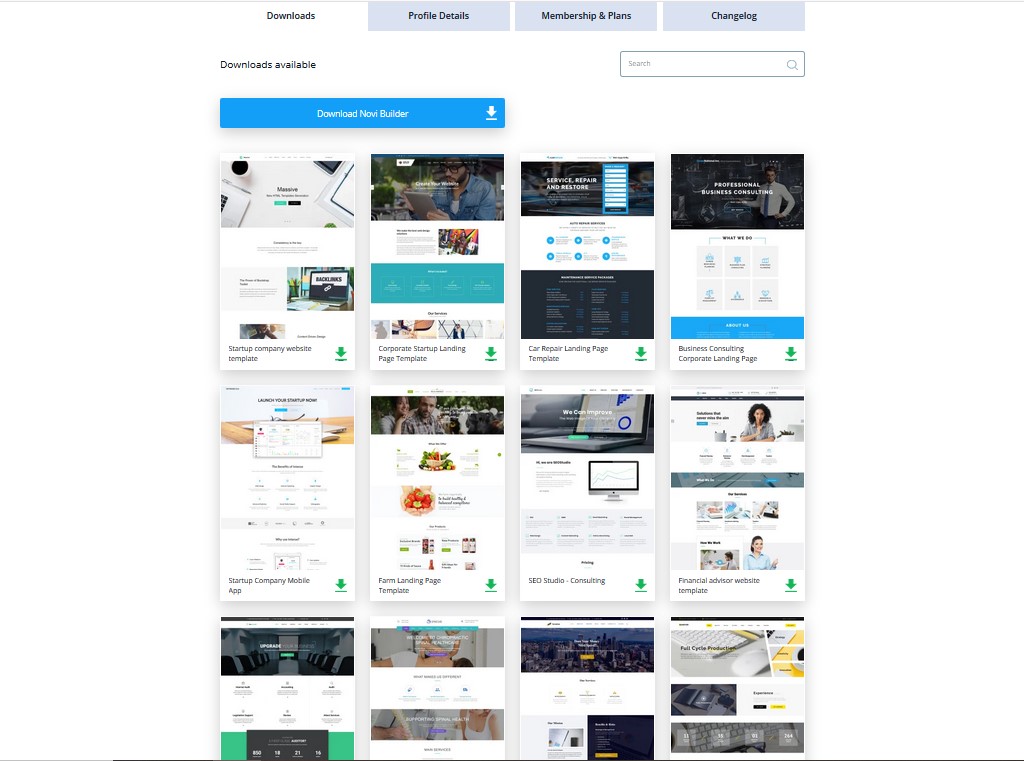 We've got a lot of customers who used to work with Dreamweaver. Likewise, both are HTML editors. But Novi Builder doesn't have much in common with this editor. Mainly because the purpose of these editors is different. Novi Builder provides a possibility to alter and create a site in a browser. You don't need to have coding knowledge to do it. There also is a design mode that gives access to the page code. Advanced users and developers prefer to perform changes visually and have the ability to modify the code (HTML, CSS, js).
And yes, it requires a hosting environment, please check our detailed article on installation.
"Advanced" users are the most active group of the Novi builder Facebook community. They are constantly merging designs, searching for best options, customizing and optimizing projects. Such users also can integrate some custom scripts to projects and do much more.
By the way, it is possible to have a lot of builders on one site. However, handling a few builders is more complex. Check topics and comments or start a discussion here.
A lot of designers choose a Novi builder, craving for applying some new designs. They may also create reusable patterns with or without basic coding skills. Most importantly, they are able to change the site on the web, visually and easily. Further, publish the different designs to subfolders and present various design solutions to customers.
How to Update a Plan
Ready to try a new design or even sell your templates on marketplaces? A subscription update option is available for all members, anytime. Consequently, a lot of Novi members are using this option to skip the subscription renewal.
Providing you are the user of a Startup Novi membership plan and have a builder and the only one template for downloading:
Switch to Membership & Plans tab in your account and see Change Plan button: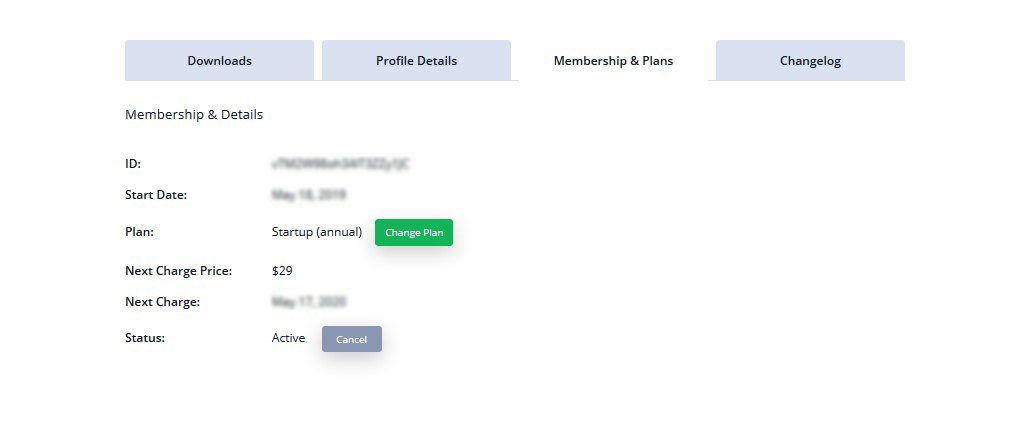 It usually takes up to 20-60 minutes to update a Novi membership plan. If your payment was not verified, please, get back to us via Facebook chat messenger. It is located on the bottom right corner or through the website contact form. You will need to provide the email used for subscription.
FAQ
I have bought the Novi Builder on Codecanyon and want to have developer/advanced membership.
You can get a refund (if it is possible at other marketplaces), and purchase a membership at https://novibuilder.com/. Sometimes it is not possible to get a refund anymore. Due to the specific refund policy of some marketplaces, for instance. We will provide you a discount for Novi Builder Developer lifetime membership – up to 10%.
Feel free to join our support chat at https://novibuilder.com/ and get your promo-code.
I have HTML templates that I have bought on other marketplaces, can I get support?
Please note that we provide free support only for issues, related to builder templates or HTML templates that are included in the subscription. But you can check the documentation, part Import Template (Step by Step). It is step-by-step guidance on importing a third-party HTML template and its subsequent setup.
Is Novi available at other marketplaces?
Yes, it is possible to get a Novi builder at Templatemonster, Masterbundles, and Codecanyon that is released under a single license. However, only the subscription plan (purchased at https://novibuilder.com ) gives a General license (unlimited projects) and free support from the Novi Builder support team.
Do you have a free trial?
We do not provide a free trial period for Novi Builder, unfortunately. You can test Builder at http://try.novibuilder.com/. Choose "skip introduction" and start editing. Some features are disabled for demo purposes. Join our chat if there any questions on builder functionality.
I have purchased a Novi membership plan twice – what should I do?
Our support team can easily resolve such issues. Please join our Facebook support chat and provide your purchase details to our team.
Can I have a refund?
We have a very loyal refund policy – 30 days money-back guarantee. Please keep in mind that refunds aren't possible if you downloaded any template. It can be only Novi Builder itself.
Can I resell the template?
Yes, you can provide your customized templates with the builder for your customers. Only customers with developer membership can sell their own templates powered by Novi at marketplaces.
Selecting a Novi Membership Plan. Conclusion
We hope that some aspects of choosing a Novi membership plan have become clearer after reading this article. Please post a comment below if you want to highlight some parts.
The Novi Builder is a fast-growing project that is gaining popularity. You can check updates history at https://novibuilder.com/changelog/ and there are a lot of new features in development. We are proud to have our Facebook community with lots of experienced users.

The software documentation, as well as video and guides, are in free access. You can also check reviews or post a question in the Facebook group. Read comments if you have any questions or concerns before buying the product. We recommend discussing some important features at our support chat as well.