Choosing the Best Premium HTML5 Themes for Your Website
Every day there are lots of new HTML templates and themes being released. With a bunch of premium templates available on the Internet right now it's quite complex to select the one you need. Whether you are working on a new website or plan to redesign an existing one, it may be difficult to find the template that satisfies both your goals and your customers' needs. Most web developers can easily choose what they need in terms of features. However, for an inexperienced user, it may be a daunting task.
To make it easy to select the template that fits your business or organization, we have prepared the selection of top 7 premium HTML5 themes. Designed & developed by our qualified team, these templates cover a wide range of topics. They also vary in design and functionality. Furthermore, all these HTML solutions are available at an affordable price and are 100% responsive. In today's post, we'll also cover various features that make our HTML templates stand out.
If you prefer to try our HTML templates first or need more information about popular solutions, check our recent posts about free HTML templates and the most downloaded templates by Novi Builder.
Why Choose HTML5 Templates Over Other Solutions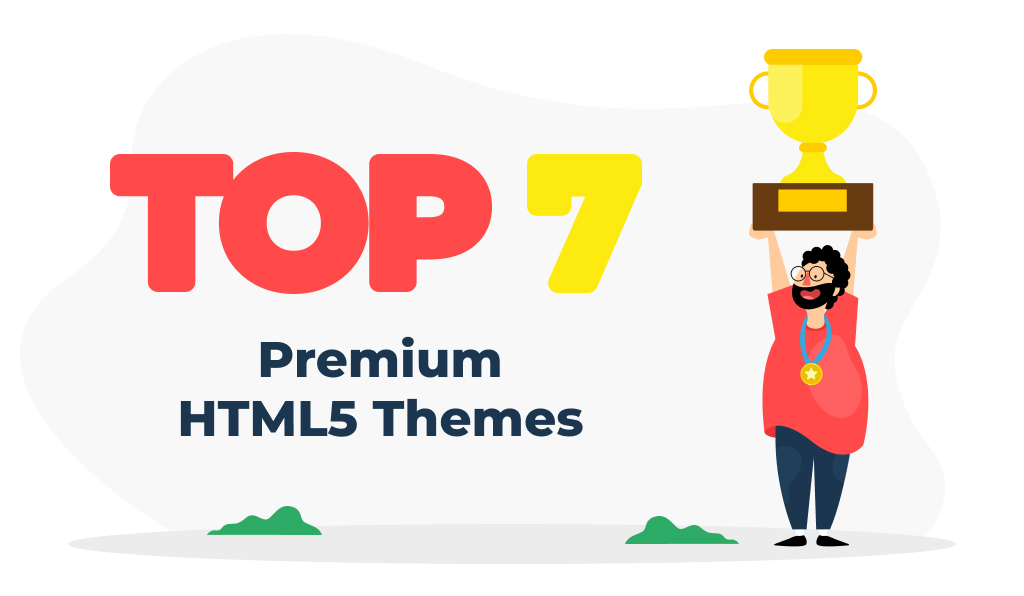 While many templates nowadays claim to be responsive and flexible, not all of them can satisfy the true needs of a website owner. Choosing a template that will help you build a successful website is a tricky business. Still, there are a few reasons why people choose static templates written in HTML & CSS over CMS and other solutions. Before discovering our 7 best premium templates, let's find out why people tend to pick HTML templates in the first place.
First of all, HTML templates are easy-to-use. They don't require any special software to function unless you want to test them on a local server. All you have to do to get your site up and running is to unpack the template archive and upload it to any hosting server. Such solutions are also well-designed. Thus, they deliver you from hiring a web developer. Besides, HTML solutions are SEO-friendly. This means easier search engine optimization for both code and content. Other important reasons to choose HTML include:
Dedicated & professional support;
Immediate results;
High-quality coding;
Seamless media integration etc.
Still, you can increase the potential of any HTML template with a multifunctional website builder. And Novi Builder has what it takes to improve even an average HTML template. If you want to build a unique website with an HTML template, then using our visual editor is the right choice. It grants you all the necessary tools for website customization. And with our vast range of premium HTML5 templates, you can choose the solution that fits your business the best way.
Top 7 Premium HTML5 Themes & Templates
The HTML solutions that we've prepared for you are designed to cover a variety of topics. At the same time, they fully meet the needs of website owners worldwide. This is possible due to the usage of the latest technologies during the development of our products. With a vast set of features, each of our templates has to offer a completely different experience. They suit not only beginners in web developments but also seasoned professionals. With that being said, let's look at our top 7 premium HTML5 themes designed by the Novi team.
Rise Up – Business Consulting HTML Template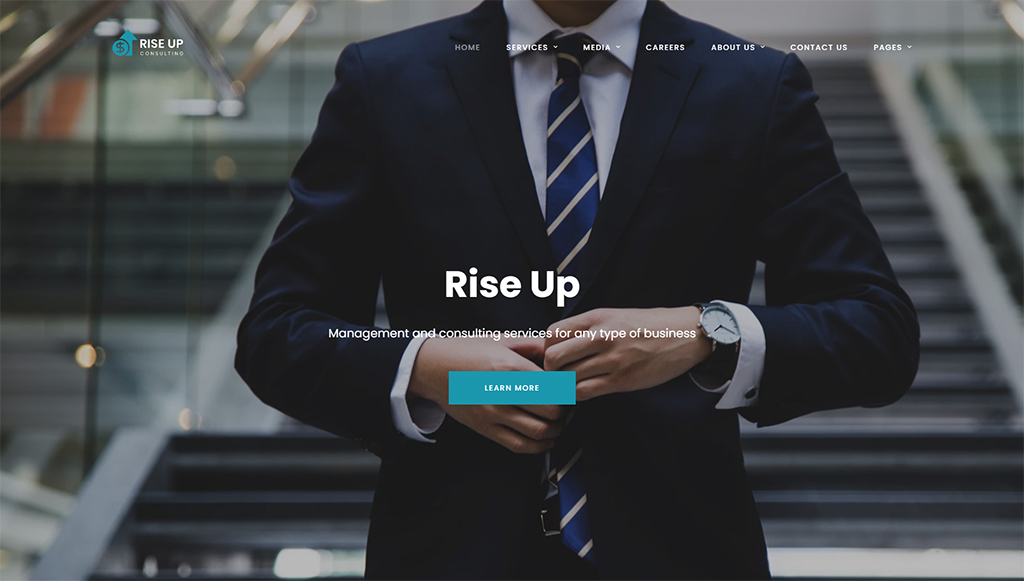 The business consulting topic remains one of the most popular among website templates. Still, not all such templates can satisfy your goals. The Rise Up business consulting HTML template was developed specifically for business consulting agencies. There are dozens of features and benefits supplied with this template. One of the most notable is the full-width & well-animated homepage header section. Sharp fonts, quality images, and an abundance of well-styled icons give this template a highly professional look. The pre-developed pages of Rise Up are dedicated to promoting your consulting business. Most importantly, it has space for a wide variety of content, from blog to services and portfolio.
Crystal – Dentistry Clinic HTML Template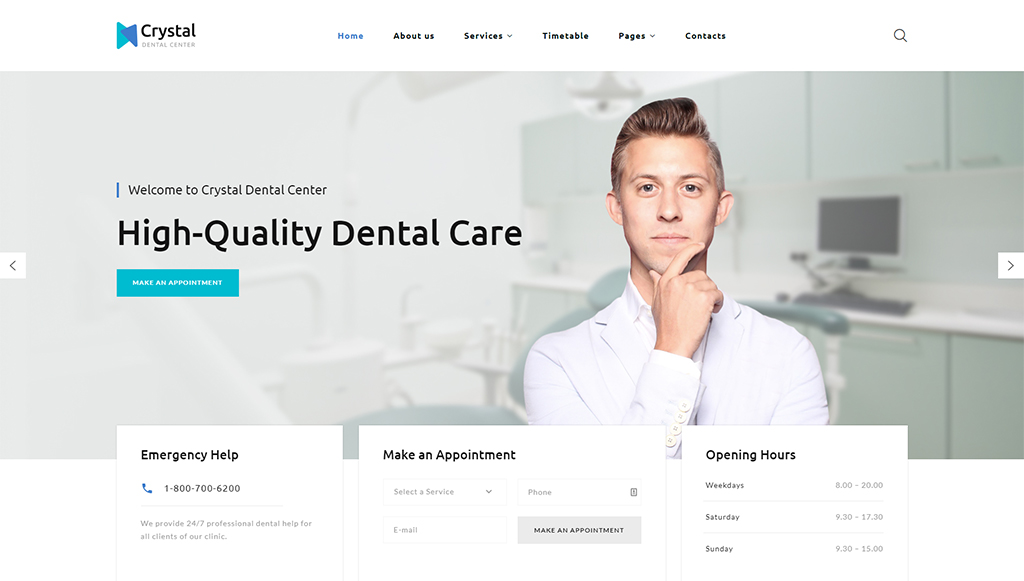 Many dentistry clinics these days use their websites not just for advertising their services. Patients who need dental treatment use are mostly interested in quick appointment scheduling. That's why it's so important for dental website templates to have more than just services and pricing sections and pages. Our team decided to develop a template that would meet the goals of modern dental clinics. With the Crystal dentistry clinic HTML template, you don't have to worry about attracting new visitors to your site. Its wide range of pages makes it easy to give a detailed description of the treatments your clinic offers. Also, it gives your site working forms and other features for simpler interaction with website visitors.
Inward – Interior Design Studio HTML Template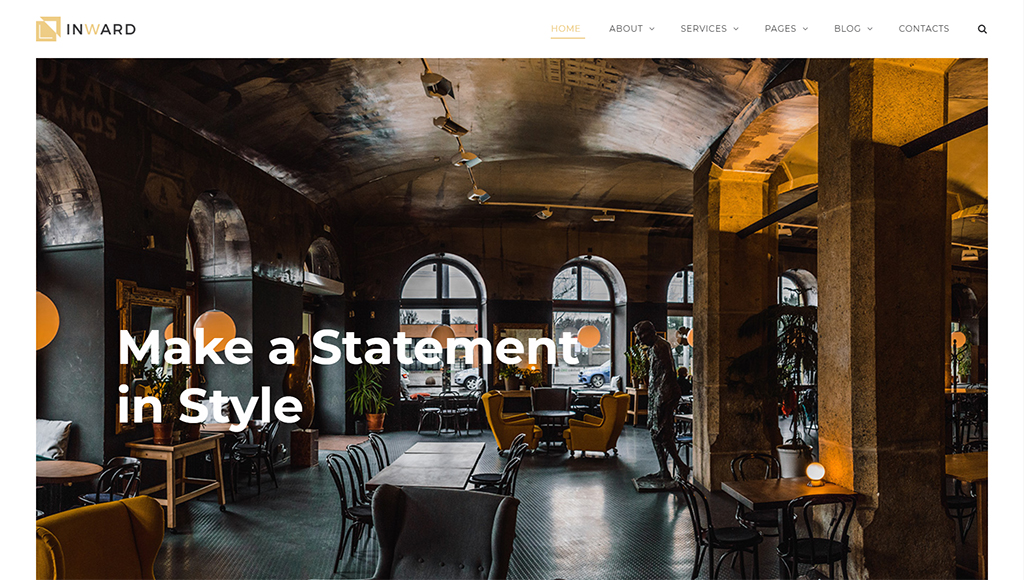 One of the most critical features for interior design studio websites is an impressive portfolio. Many templates get neglected and even forgotten because of bland portfolios and galleries. In the Inward interior design studio HTML template, we tried to combine modern design trends with outstanding functionality. With a well-animated gallery, Inward is more than just an eye-catchy template. It supports full customization and includes effective navigation. For example, with a stick-to-top menu and informative footer, there's a lot of space to experiment with. A wide range of sections and blocks allows you to post the reviews submitted by your customers. You can also tell more about your interior design team with Inward.
Techdoc – Service Center HTML Template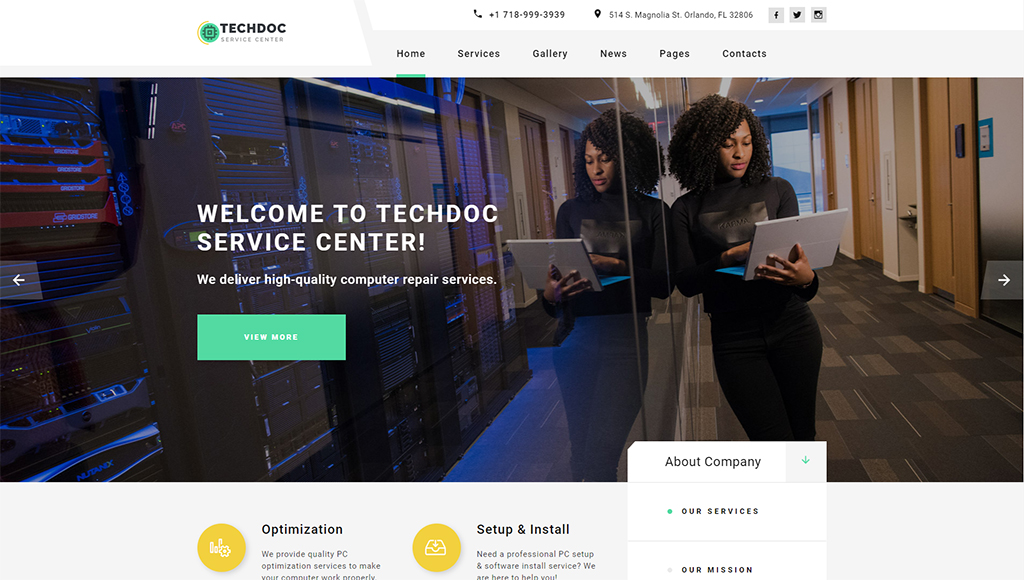 It can be quite a tricky task to pick an HTML template that fits any modern service center. Still, even this seemingly simple topic requires a website that is professionally designed. And when you can't develop it on your own, using the Techdoc service center HTML template will be a great fit. With an informative layout and impressive slider, the home page of Techdoc conveys a clear message. Even with a single page, you can make your website look outstanding and highly informative. However, our template offers more than just one page. It comes with a variety of pre-developed pages filled with content sections and elements. Besides describing your service center, you can also blog about the recent news & updates. Moreover, you can easily showcase your solutions with a well-animated portfolio.
Organic – Grocery Shop HTML Template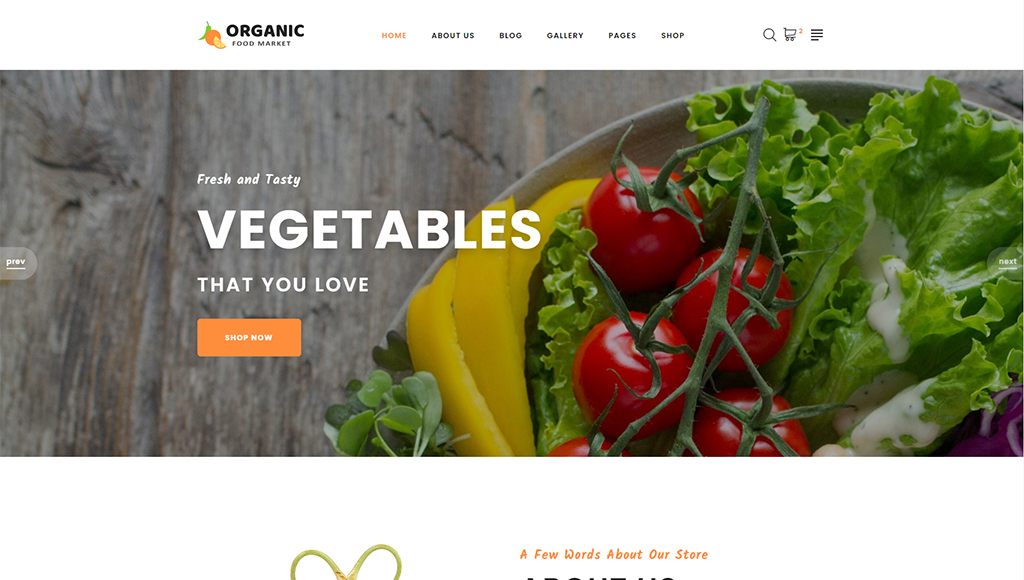 Have you ever wanted to bring your agricultural business online? The HTML templates developed by Novi allow you to do it quickly and efficiently. The Organic grocery shop HTML template isn't an average solution for establishing a site. It was designed to let you build an online store for your organic farm. This HTML5 template is a perfect choice when it comes to creating a user-friendly website. Also, Organic allows you to gather various information in one place due to its layout. While being responsive, it offers various blocks for posting the benefits of your products. You can also publish testimonials by your clients. Moreover, it gives your first-time visitors a chance to find out more about your farm.
Shine – Minimalist HTML Website Template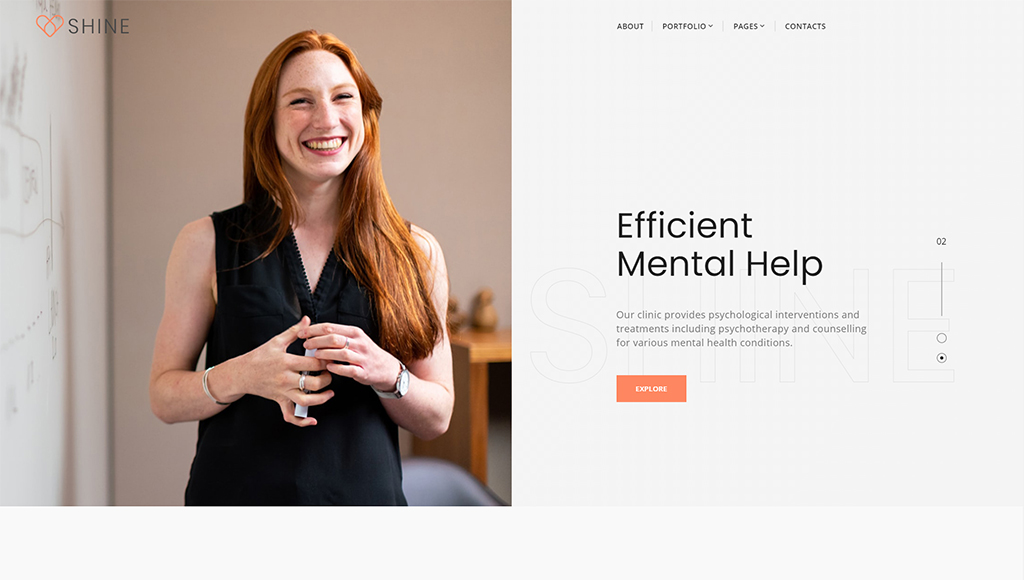 Minimalistic design has always been in demand among businesses and organizations. The layouts built off such a design give useful space for content. Also, with such an approach, you can tell a lot about your business. The Shine minimalist HTML website template can give you what your business needs. This is especially true when it comes to psychological counseling. Our template can be used for describing services or for providing a portfolio. Most importantly, this solution won't bother you with a huge number of pages. Whether it's a contact page or portfolio, Shine includes only the pages required for a successful start on the Internet.
Smith – Personal HTML Website Template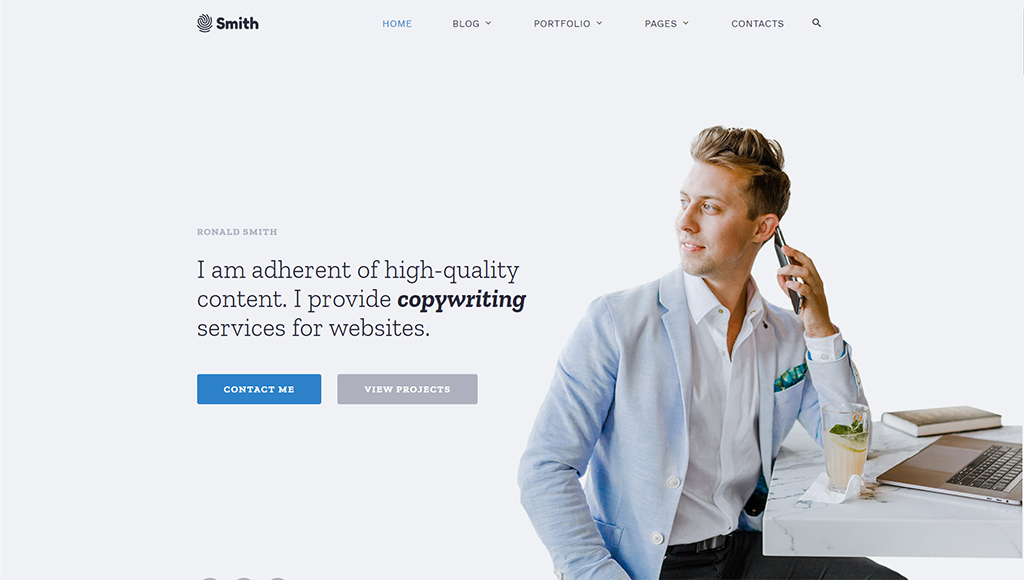 Any freelance professional needs to promote themselves on the Internet these days. For that reason, personal templates get more & more popular. Also, different personal websites require a different approach to design. The Smith personal HTML website template meets the needs of various freelance professionals. To present themselves, many freelancers need a proper website. With our solution, you get a colorful portfolio for your projects. Also, a variety of blog and service pages is available. You can fully customize the template to make it look unique as well. But even in its original design, this HTML template is great for promoting your skills as a copywriter.
The Benefits of Using Premium HTML5 Templates with Novi Builder
With such a variety of topics and benefits, you may be wondering how to get the most out of these templates. They can be used on their own as any other HTML templates. However, it is highly recommended to use them with Novi Builder. This is mostly because the templates were designed specifically for this website builder. However, using them with Novi greatly simplifies the process of website development. You can manage the content and customize the included sections and blocks easily. With the provided visual editor, replacing content and editing the layout of all the abovementioned templates is a matter of minutes. But what exactly does Novi Builder offer?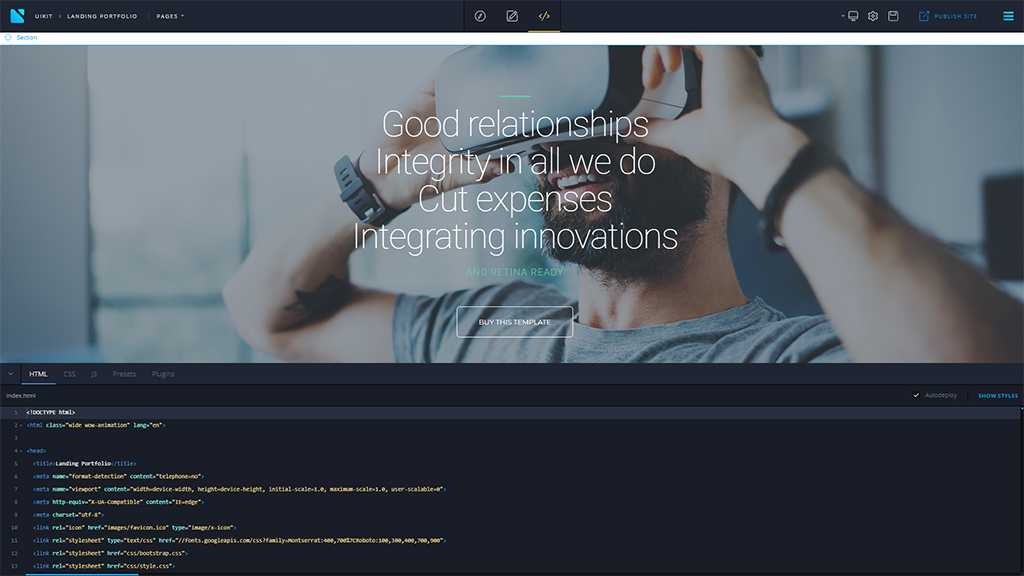 First and foremost, it includes 3 separate modes: Edit, Design, and Preview. The first one allows you to visually edit your website. The Design mode is a great fit for working directly with the website code. You can also see the changes you made in the code in this mode. The third mode is great for taking a final look at your website before publishing it. Also, you can use it to directly interact with the site just like a user. Besides these benefits, you can take advantage of using the following features of Novi Builder:
Page manager
Presets
Content editor
Text editor
Media library
Drag-and-drop tool etc.
Additional Benefits of Novi Builder
Combining Novi's features with our templates leads to building a unique website. Also, it should be noted that the abovementioned templates are just a small part of our solutions. Besides offering 30+ templates to our clients, we also provide free templates. They allow you to test the features of Novi Builder. These templates contain all the features you'd expect from a modern website. Moreover, our free templates can help you get started with web development.
But if you decide to pick the Advanced pricing plan, you can get the most out of our website builder. While getting free & regular updates and an unlimited number of projects, you also can access a wide range of pre-designed HTML5 themes available only for Advanced plan subscribers. To learn more, feel free to visit our pricing page. There you can find more details about various pricing packages. The frequently asked questions section will help you find out more about our website builder.
Top 7 Premium HTML5 Themes: Conclusion
We hope that this post provided you with a great choice of premium HTML5 themes. Whether you will build a corporate or creative website, our solutions will support your ideas. When combined with Novi Builder, our templates serve as a great basis for any website. With HTML5 themes by our team, you can create a site that meets your ideas. Furthermore, you will be satisfied with your site to the fullest extent.

If you have any questions regarding our visual editor or the templates designed for it, feel free to join the Novi Facebook community. There you can ask anything about Novi Builder and get answers directly from our team. Visit our Facebook page to stay in the know of the latest news from us. Also, you can simply submit a support ticket to get assistance from us. This is especially useful if you own the annual Novi subscription plan. We are always glad to help you discover the full potential of our website editor.