The Role of Most Downloaded HTML5 Website Templates
The most downloaded HTML5 website templates can transform your business. Having a website nowadays is almost mandatory if you want your business to succeed and grow. A well-designed website leads to increased productivity, better sales, and improved public image. Even though many companies use social networks to promote their products and services, the role of websites can't be overrated. Many businesses usually rely on website developers or web design studios. However, this trend is rapidly changing as HTML templates and website themes get more & more popular.
No matter the size of your business, you'll eventually find yourself looking for a modern web design solution. And that's where HTML5 templates can help. Among the most downloaded HTML5 website templates, there are lots of various website examples. Still, all of them serve a single purpose – to provide you with a starting ground for your company's website. In today's article, we'll take a closer look at the most popular HTML5 responsive templates by the Novi team. Also, we'll give you a detailed explanation of how these templates work with our website builder.
If you just want to check out the quality level of our templates or are not ready to pay for them, make sure to read our recent post about free HTML5 website templates.
Types of Popular HTML5 Website Templates
Before we move on to showcasing the top 5 most downloaded HTML5 website templates, it's necessary to dive deeper into various types and features of website templates. There are lots of different goals that website templates are designed to meet. Also, you may want to use a template you bought for a completely different purpose. Furthermore, it is required for any template to be easy-to-work. Such an approach simplifies maintenance procedures and allows you to better control the content.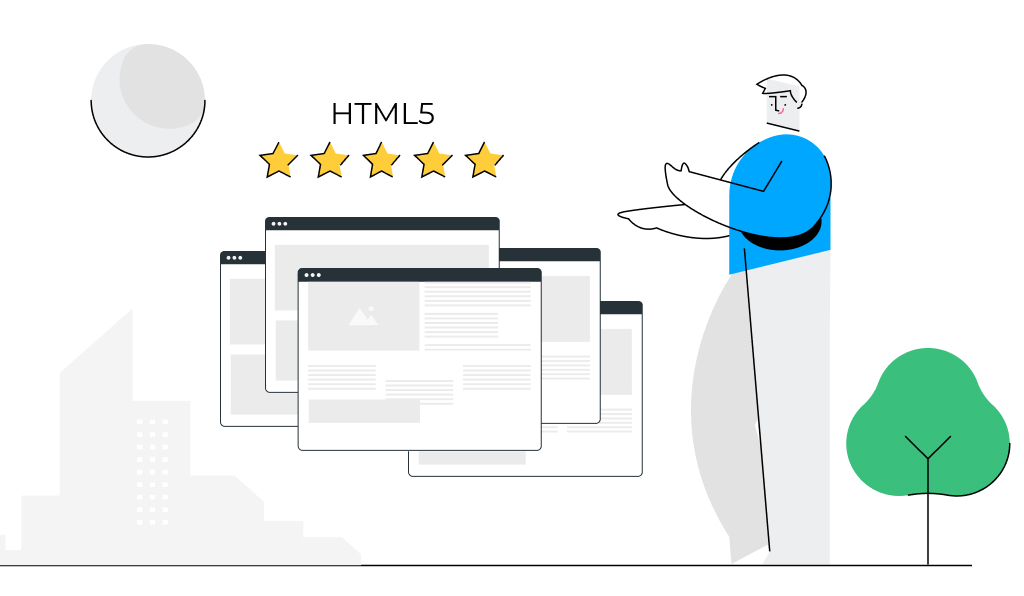 All of the abovementioned principles split various templates into multiple categories. However, among the buyers of website templates, only a few of them remain popular:
multipurpose templates;
landing page templates;
eCommerce-ready templates.
Notable Features of Modern Website Templates
Nevertheless, different website templates have a lot in common when it comes to features. It is quite easy to find hundreds of templates that are responsive. This is not just a feature but a requirement for any modern template. High responsiveness means that a website built with such a template will easily adapt to any browser, device, or screen resolution. Also, most of these templates are built with the Bootstrap 4 framework. It simplifies the website maintenance and grants you basic tools for easier website customization.
The features we've listed above are just basic ones. It means that the most downloaded HTML5 website templates must have them included. When it comes to visual and functional features, they differ a lot between various templates. First of all, such features as Parallax and impressive CSS3 & JavaScript animations have already become an industry standard. They add a lot of visual aesthetics to static websites. Functional features, on the other hand, include various plugins, scripts, and technologies that improve the UX of your website. They vary from working forms and galleries to maps, fonts, and widgets. When combined properly, all these features can help you create a unique website.
5 Best & Most Downloaded HTML5 Website Templates
Now that you have a clear understanding of what a reliable HTML template should look like, let's look closer at the 5 most downloaded HTML5 website templates by Novi. Each of these templates contains a wide range of unique features that meet the goals of different businesses and organizations. If you like the choice of templates that we offer feel free to check out other HTML5 website templates available as a part of our Advanced subscription plan.
Car Repair – Auto Repair Landing Page Template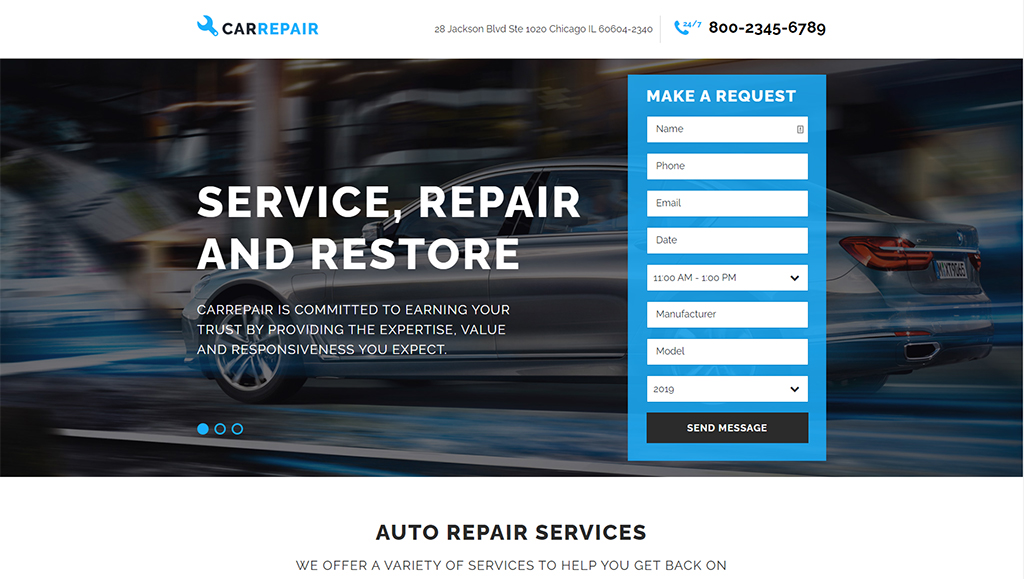 The topic of auto repair is one of the most popular ones when it comes to promoting services on the Internet. Many people tend to search for car maintenance and repair on specialized websites. Still, establishing a website can make your potential clients more aware of your services. To help small & medium auto repair shops, we have developed this car repair landing page template. It is a responsive and affordable solution that lets you establish an attractive website quickly.
Car Repair offers a wide range of benefits out-of-the-box. For example, it features a well-animated slider with the appointment form. You can also post actual prices and share the clients' testimonials. With such technologies as Google Maps & Google Fonts, it's easy to make your site fully interactive. Also, don't hesitate to post the latest news and car repair tips with the help of this template. And if you want to build something unique, then you can easily customize Car Repair to suit your needs.
SEOStudio – SEO Agency HTML Landing Page Template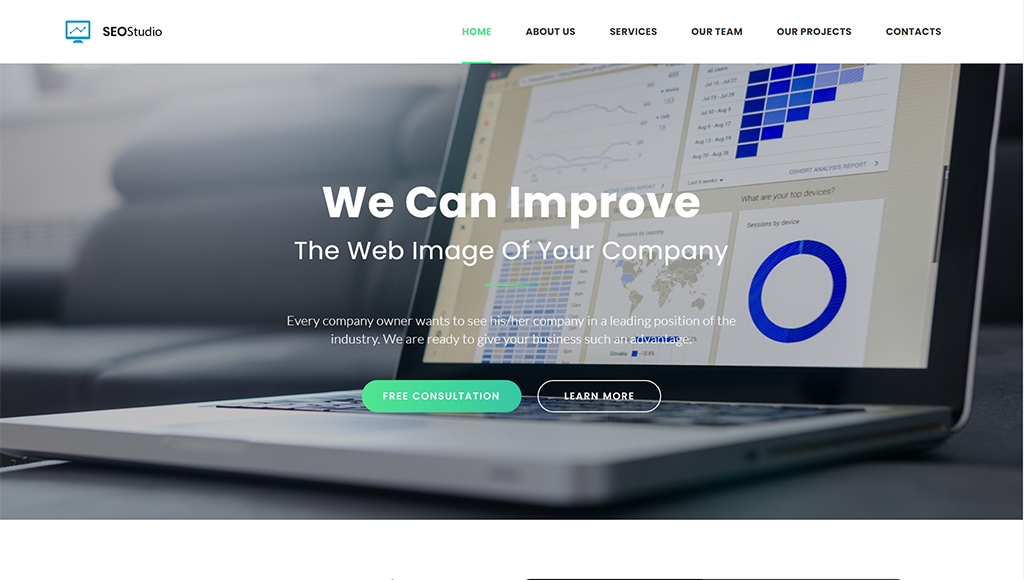 Very often digital agencies and SEO specialists need a proper website to promote their solutions. And nothing can do it better than a well-designed website. But how to simplify the process of SEO website design even further? We recommend using an HTML landing page. Moreover, if you run an SEO agency, we have developed just what you need. The SEOStudio template is a ready-made solution that will allow you to showcase your digital marketing services.
This SEO agency HTML landing page template is fully responsive and easy to maintain. Based on the Bootstrap 4 framework, SEOStudio grants you with better control over its content and functionality. Having a clean & creative design, our landing page template offers more than just an attractive look. Thanks to a decent selection of blocks, the landing page allows you to post information about your SEO services and its prices. Also, you can describe the popular cases and interact with your clients via working forms.
FinPro – Financial Advisor Website Template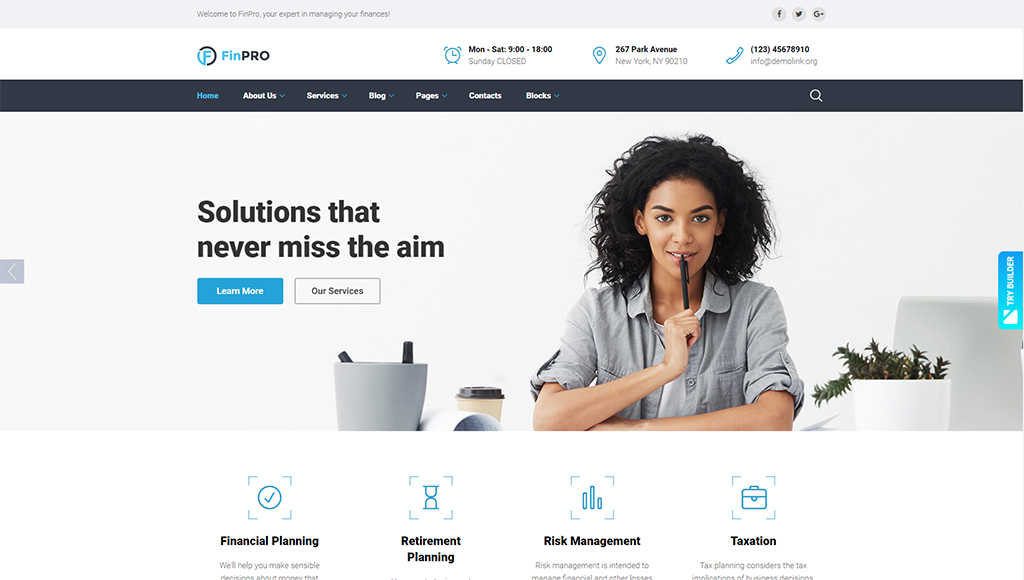 Companies that deal with finances and investments require an attractive website. It needs to have a corporate design and a detailed layout. Moreover, such websites are built to attract potential clients. That's exactly what we went for in our new financial advisor HTML website template, FinPro. It was designed specifically for websites of financial planners, investment managers, and business consultants.
Like any other template built by the Novi team, this solution features a wide selection of blocks and UI elements. However, they are just a small part of the multiple advantages that FinPro offers. One of the major benefits is the template's huge customization potential. Our template is also multipage. It provides your site with a wide variety of pre-developed HTML pages. For example, they can be used to your customers a better understanding of what solutions your advisory company offers.
Massive – Startup Company Website Template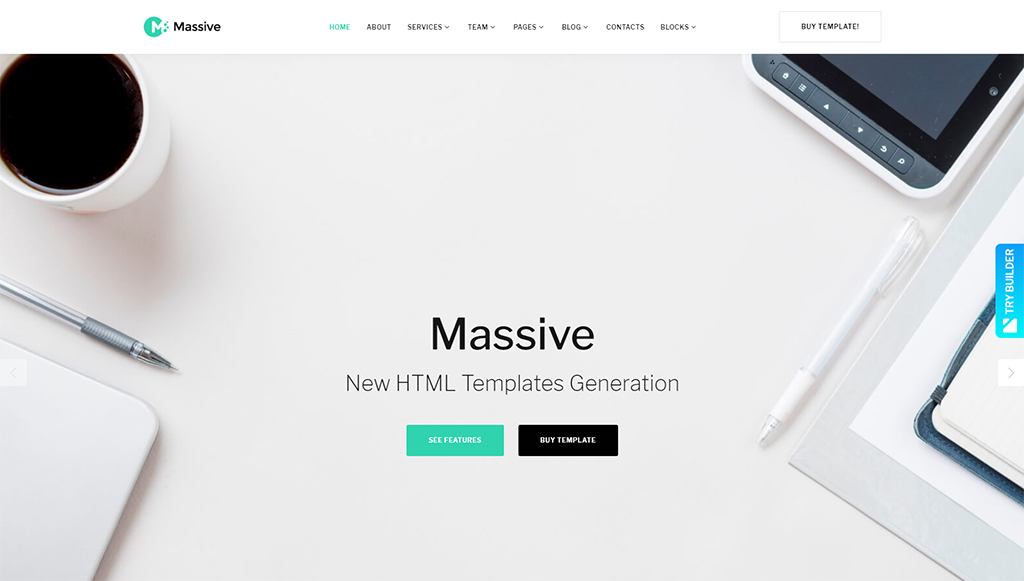 Have you ever wanted to establish a startup but had no well-designed website? Or maybe you already have one, but you want it to be more responsive & modern? If you answered "yes", then our new template will be a great fit for you. No matter what kind of company you own, the Massive startup company website template can easily transform your site. With its corporate & clean design, you can create a proper representation of your business online.
It's needless to say that this HTML solution has a variety of advantages to offer. However, a variety of built-in and pre-designed plugins and scripts will improve your website's interactivity. Also, such pages as Team, Contacts, and Services, can create a strong foundation for a responsive & content-rich website. Besides, various layouts of the integrated Blog will keep your visitors interested in your startup website even more.
Quarter – Construction Company Website Template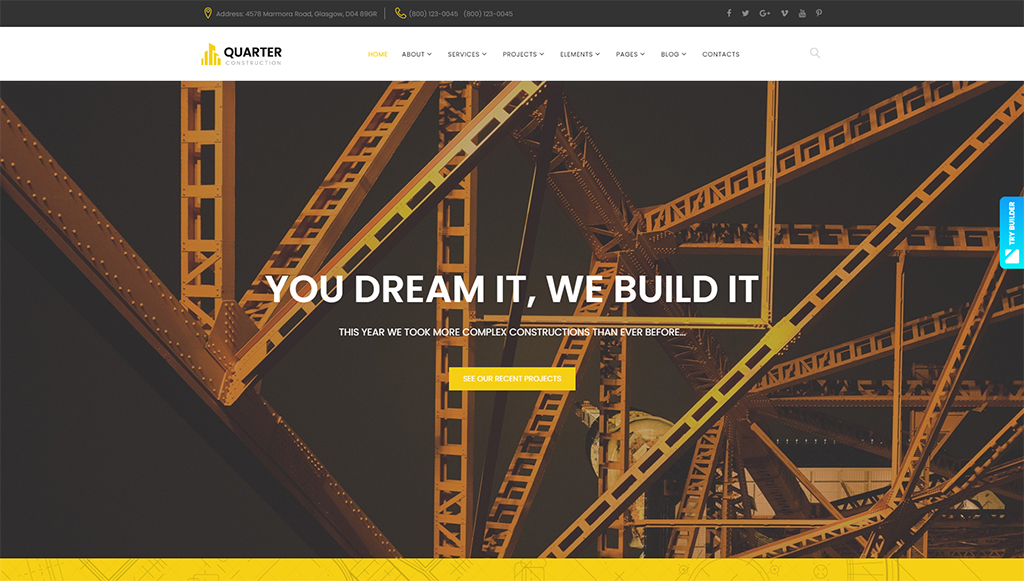 The construction business is developing and growing rapidly. No wonder that the website templates concerning this topic are highly popular. The HTML templates about construction are designed to reflect the achievements of this business. Also, these websites need to be responsive and easy to work with. That's exactly what we tried to achieve with our new construction company website template – Quarter.
From well-animated sliders to informative sections, Quarter has a full set of tools for your website. First of all, it includes a well-integrated search system and lots of pages. These pre-designed pages are made to show the benefits of working with your company. You can display your recent projects on a home page or blog about them. Also, it's easy to stay in touch with your partners and clients. It can be done via the Contacts page. And of course, don't forget about the Services section that describes every solution your construction business offers in an eye-catchy manner.
Top Features of Most Downloaded HTML5 Website Templates
All of the templates listed in this article share several common features. These advantages make them reliable and easy to get started. Firstly, they are responsive. It makes the usage of these templates super easy on mobile devices. Also, all of the Novi templates are equipped with the Grid system. Thanks to the Bootstrap 4 framework, our templates include up to 12 columns of content. You may want to combine this space or use several columns individually. It's quite simple with any of our solutions. Other notable features include:
Cross-browser compatibility;
Plugins (sliders, galleries, carousels);
Pre-designed CSS & JS elements;
Easy-to-edit source files etc.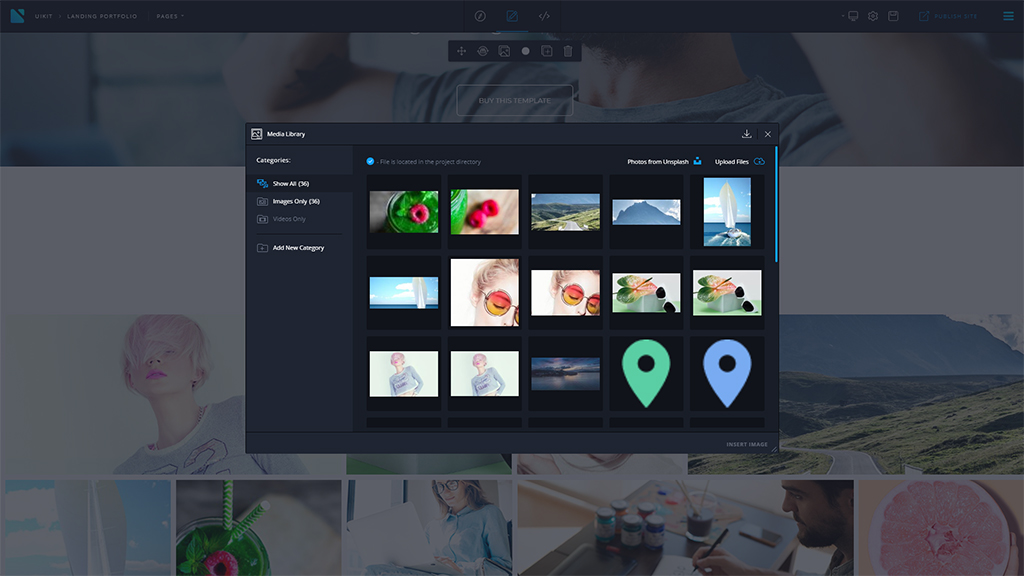 The Benefits of Using HTML5 Templates with Novi Builder
But one of the most important features is the optimized performance. This is especially true when it comes to customizing our templates with Novi Builder. However, first, we have to dive deeper into the advantages of Novi Builder. This solution is a visual website builder suitable for any skill set in web development. It allows you to get more from HTML templates through simpler customization. Novi is easy-to-use and very powerful. This builder comes with dozens of plugins and blocks. Other advantages include such notable features as Media Library. To get the most out of our templates, we recommend to use them with Novi Builder.
Our builder is available in three pricing options – Startup, Advanced, and Developer subscriptions. The first one is a good choice if you need just a website building tool. The advanced option is a recommended pick as it comes with dozens of ready-made templates. With it, you get free access to our subscription templates including those listed above. The last pricing option is suitable for professional web developers. With it, you get access to all Novi benefits, including all of its templates. With it, you can also sell the templates you created with Novi Builder. And if you want to visually customize the builder (e.g. change the logo), then the White Label offer might interest you. Feel free to check out the pricing page to know more.
Most Downloaded HTML5 Website Templates: Conclusion

We hope that today's post helped you choose the template for your next website. While we recommend using all these HTML solutions with Novi Builder, you can also work with them on their own. Our templates are ready-made and they can be uploaded to any hosting server right away. Sometimes building an attractive website may seem complicated. However, we hope that our solutions will help you on your path to online success.
If you have any questions about Novi Builder, its functionality, or the templates we offer, feel free to join Novi Builder's Facebook page and community. There you can read about the latest updates and get help from our support. Our team will also gladly consult you on anything regarding our website builder. Feel free to contact us via our website or submit a support ticket. We are always happy to help our clients get more from our solutions.