The Benefits of Using an Online Food Ordering System
The usage of an online food ordering system for restaurants is vital nowadays. In a competitive modern market, it's important to know how to stand out. Moreover, you need to be a step ahead of competitors. To achieve this, it is best to use every tool at your disposal. The forever-evolving technologies are nothing short of magic if you know how to take advantage of them correctly. For example, online competitor monitoring can help you keep your finger on the pulse and ensure your company stays ahead of competitors. It can significantly improve your business, increasing your customer base and bottom line. This goes for systems of online food ordering too. More customers prefer to order delivery rather than going to the actual restaurant.
This goes for systems of online food ordering too. More customers prefer to order delivery rather than going to the actual restaurant. Implementing such a system may also be the best course of action. In this article, we have prepared a few tips for using this type of system. Let's take a closer look at how you can use its benefits to improve your restaurant's profit and reputation.
Gain More Exposure Straight Away
The fact that anyone can get famous with the help of the internet is nothing new. This applies to businesses too, not only people. Times have changed, so an online presence is vital for your restaurant. The best way to ensure this is through an online food ordering system. Expanding your visibility is easily done this way. Many customers, either new or regulars, will now be able to quickly order. If you don't have a website, you could use a restaurant website builder to make one in seconds.
Also, a website with an integrated ordering and delivery system will help you get more interested customers. And with a proper PR & marketing approach, such a site can help you improve your restaurant's image. This is one of the undisputable benefits that these solutions offer. Even a small family-owned restaurant can easily benefit from using a system of online ordering.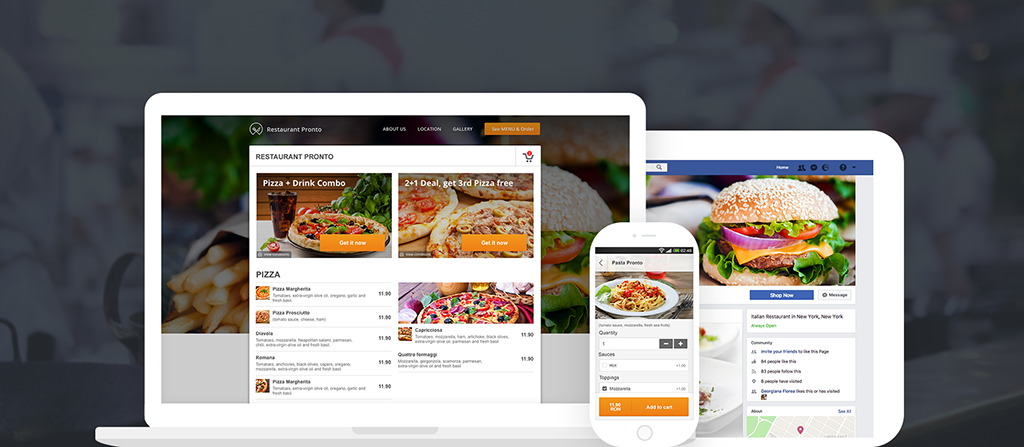 Forget About Unsatisfied Customers With an Online Food Ordering System
It is impossible to own a restaurant and keep all customers happy. Moreover, some clients can't stand any waiting time. Now you can make sure even they will be pleased with your service. This can be done with the help of GloriaFood and the pre-ordering function. It provides all the advantages of using an online food ordering system for restaurants. This app allows customers to order their meals in advance. Thus, it helps with canceling any waiting time and other possible delays. Such software also has lots of other great advantages, for example:
Improved cusotmer management;
Affordable marketing;
Expense monitoring;
Staying ahead of the competition.
You may also have to deal with customers who order a few hours ahead. With the GloriaFood app, they will have their dinner as soon as they get home. Besides, they can get their orders even a day earlier for the short lunch break at work. All in all, this feature is sure to keep every customer as satisfied as possible. This way you can also get direct feedback from your online visitors and improve your working process.
Easier for Both Sides
Your focus may also be on keeping your customers happy. However, you can only achieve that by making your tasks and overall life easier. An online food ordering system has what it takes for the customer to order and receive their food at any time of the day. It makes handling & processing an increasing amount of orders easy. Thus, using such a solution may be a time saver for any type of catering establishment.
With GloriaFood, you have orders organized so your team can handle everything more efficiently. It also helps you ensure regulars stay loyal, and new customers will become regulars. Moreover, with an increased amount of restaurant clients worldwide using online ordering, many establishments will need to adapt. It will also help you to differentiate from your competitors in the future.
Online Food Ordering System: Conclusion
We hope this guide to an online food ordering system was useful to you. However, you can also apply some other tips for increasing your profits. They are related to marketing and convenience. For example, make sure you regularly introduce special offers and promotions. With the help of GloriaFood, you can add these offers right at the top of the restaurant menu and make sure your customers don't miss any of them.
When it comes to convenience, make sure to have alternative payment methods. Not everyone prefers to pay in cash nowadays. Use safe payment processors and list every single additional cost. This has to be done before the customer confirms and pays the order. Taking these steps now will make your business skyrocket. It will also help you get the most out of your restaurant. This way everything that you worked so hard for will reach its full potential.
For more related articles about web development and design, feel free to visit our blog. There you can find a vast amount of guides and tips for all kinds of small businesses as well as restaurants. Moreover, you can learn a lot of new tricks for the UX design of your site. And with Novi Builder, our easy-to-use visual website editor, customizing your online projects will be quite simple. Also, don't forget to visit our Facebook community and follow our official social page for more news.